Golfers that travel a lot are always on the lookout for the next great destination to jump on a plane and have a new experience. The problem they often run into is choosing a destination that's going to both satisfy their needs and is within their budget.
While the British Isles are where the game originated, and where everyone wants to go, there are plenty of worthwhile options in the United States.  And the state of Florida in the U.S. has proven a highly desirable destination.  Not only is it a much easier trip from Europe than the West Coast, but there are also plenty of world-class destinations that are affordable and won't disappoint.
The trouble a lot of golf travellers have is choosing a destination that suits their wants, needs and budget.
Thankfully, the professional staff at Golf Travel Lux has worked hard to do the appropriate research and cultivate close relationships with some of Florida's finest properties.
Keep reading to find out more.
For anyone that takes the game of golf seriously, they know that the name Arnold Palmer is synonymous with greatness.  After all, he's still referred to as the "King."
The Bayhill Club and Lodge remains Palmer's legacy.  It not only plays host to one of the most prestigious events on the PGA Tour but has been renovated and updated to exceed the expectations of today's golfers and travel enthusiasts.
No less than 70 fully appointed, air-conditioned rooms await guests at the Bayhill Club and Lodge.  Every creature comfort can be enjoyed, and the walls are even adorned with relics from the King's extensive personal collection.
When it comes to food, you won't go to bed hungry or thirsty.  For breakfast, lunch, and dinner, you can't go wrong with the Grill and Classic Dining Rooms.  They boast splendid fare and wine lists that impress even the most discerning connoisseurs.
If a memorable setting is what you're after, there's no topping that of the Bay Window which overlooks the practice putting green and iconic Rolex clock.  Here, you'll find an array of mouth-watering appetizers and wood-fired pizzas that will leave you full but wanting to come back for more.
While the amenities are second to none, the real story is about the golf at the Bayhill Club and Lodge.  No less than 27 holes comprise the Champion, Challenger, and Charger loop.
Each nine has its own characteristics, but one thing is sure, you'll have plenty of chances to go for broke, just like the King himself.  The courses are always in immaculate condition and there are plenty of tee options to make the round enjoyable for golfers of all abilities.
When it comes to golf on the East Coast of the United States, Florida is clearly the place to be.  And the Innisbrook Salamander Golf and Spa Resort is more than representative of the great properties in this state.
When it comes to accommodations, there's no shortage of choices.  You can choose between anything from single suites to three-bedroom suites that come with a full kitchen.  No matter the size of your party, everyone is sure to be comfortable.
If ultimate relaxation is what you're after, you'll want to set aside some time at Indaba, the 20,000-square-foot spa.  Here you can enjoy amenities like the meditation labyrinth, relaxation courtyard, and multiple steam rooms.
That's not all though.  Indaba is staffed with world-class wellness therapists that specialize in everything from full-body massages, to facials, wraps and scrubs, to sports rubdowns that are the perfect antidote after a long day on the course.
You're sure to be hungry after a day filled with activities too.  There's no shortage of options at Innisbrook. If you want to catch a game, sip on a local pint, and watch golfers finish up on the course, the Osprey Bar is the place to be.  For a more formal setting with mouth-watering steaks and an extensive wine list, the steak house is unforgettable.
At the end of the day though, it's all about the golf at Innisbrook.  E. Lawrence Packard designed no less than four memorable courses at this property.
The Copperhead Course is most recognized and challenges the best PGA Tour players every spring. This track is framed by tree lined fairways and is a true ball strikers' test.  Dramatic elevation changes, ample hazards, and well protected greens demand precision on every shot.
Most golfers say the Island Course offers up just as much of a challenge as the Copperhead Course.  Having played host to prestigious events like U.S. Open qualifiers and the NCAA Championships, ample water hazards and strategically placed bunkers will test even the most discerning players.
The Highlands North Course is a less complex design than the former two, but it's anything but short on character.  The fairways are narrow, and accuracy is more important than distance off the tee.  It also boasts what many call the best set of par threes in Florida.  You won't forget this collection of short holes.
The Highlands South Course sets itself apart due to its more open, links-style design.  Here, ocean breezes sweep across forgiving fairways and can make club selection a challenge.
For an all-encompassing golf getaway that's sure to satisfy everyone in your group, it's hard to argue against Innisbrook.
Luxury is the first word that comes to mind when golfers think about the JW Marriott Turnberry Resort and Spa.
It's on this property that modern design is blended seamlessly with Mediterranean sophistication.  That's certainly the case in some 685 rooms which feature every creature comfort imaginable.
This is the perfect place to bring the family.  The kids won't be able to get enough of the expansive lagoon pool, water slide, and lazy river.
For ultimate relaxation, the Willow Stream Spa has a wide array of relaxation therapies and treatments sure to leave you feeling rejuvenated physically, mentally, and spiritually.
When it comes to golf, there's no underestimating the quality and playability of both the Soffer and Miller Courses.  Both were redesigned by World Golf Hall of Fame Member, Raymond Floyd in 2008.
The more challenging of the two courses is the Soffer Course which plays to over 7,000 yards from the back tees.  The Miller Course is user-friendly for everyone and plays to a yardage of just under 6,500 yards.
Everything you need awaits at the JW Marriott Turnberry Resort and Spa.  You won't leave disappointed when you book a golf holiday here.
Of all the golf destinations in Florida, perhaps none is more recognizable than the Sawgrass Marriott Golf Resort and Spa.  That's because the Stadium Course is home to the Players' Championship on the PGA Tour.  Many players consider this iconic tournament to be golf's fifth major.
But before we get to the golf, let's have a closer look at what else this amazing destination has to offer.
To start, all of the resort's 508 rooms have been newly remodelled and updated with the latest amenities. The hotel consists of 324 waterfront rooms that will meet your every need.
Additionally, there are 80 two-bedroom villas and 24 suites that give you plenty of space, privacy, and deluxe comfort.
If you don't want to play golf everyday while you're here, you'll most certainly want to spend some time at the Spa.  No less than 19 treatment rooms, and a full staff of wellness specialists are waiting to make you feel your best.
For a little more action in the form of water sports, be sure to check out the Cabana Beach Club.
In terms of dining, make sure you come hungry. Café Italiano offers up some of the most delectable cuisine this side of the homeland.  For contemporary American cuisine, you can't beat the Augustine Grille.
Here again though, it's all about the golf at Sawgrass. Resort guests have access to no less than five outstanding courses.
Most famous of all is the TPC Sawgrass Stadium Course. Designed by the venerable Pete Dye, this course plays home to the aforementioned Player's Championship.
While the entire course will challenge every aspect of your game, it's the last three holes that make or break your round. The 16th is a risk-reward par five where you can make anything from eagle to triple bogey.  The par three 17th might be the most famous in the world.  Although the yardage is short, your tee shot must be precise because this two-tiered island green is surrounded by water and any mishit is going to get punished.
Your work isn't done after 16 and 17 though. The par four 18th has water all down the left and requires two long, well-struck shots to find the green in regulation. If you get through these last three holes unscathed, it's cause for celebration.
The Valley Course was also designed by Pete Dye.  Even though it measures less than 7,000 yards from the back tees, it requires precision from tee to green. Employing many of the characteristics Dye is known for, the Valley Course is a treat to play.
Some 27 holes await at Sawgrass Country Club. This Ed Seay design can be played in multiple rotations and will leave you wanting to come back for another round.
Also designed by Ed Seay was Marsh Landing Country Club. A mix of native pines and intercoastal marshlands gives you plenty of variety. No two holes are the same, and the course is always in perfect condition.
Ponte Vedra Country Club isn't to be overlooked. It was constructed in concert with the natural landscape, not in spite of it.
While the landscape here is beautiful, don't let it distract you on this layout which is tight and demands your best on every full shot. Trouble lurks if you're not careful.
There might not be a more inclusive golf destination in Florida than the Sawgrass Marriott Resort and Spa.
The name Reunion Resort just sounds welcoming, doesn't it?  That's because it is.  In fact, it's more of a village than a resort.
Instead of a hotel, guests at Reunion stay in condos spread across the property that have anywhere from one to three bedrooms.  You'll truly feel like you're at home when you stay here.
While the option to do your own cooking is a welcomed luxury, there are plenty of options to eat out too.
For those wanting a craft cocktail in a festive, modern environment, there's no better place than Eleven.
Other favourites are the Italian menu at Forte, and the Clubhouse which has some of the best golf course food you'll find anywhere.
Non-golf activities are plentiful and suited for the entire family. They include an all-inclusive spa, numerous tennis courts, and even a Kids' Club for the little ones.
Serious golfers will be anything but bored here too.  Three courses each offer something different, and are playable, yet challenging.
The Nicklaus Course is target golf in every sense of the word. The landing areas are clearly defined and playing from one point to another is the key to scoring well. It's no surprise that Golfweek named this track the "17th Best Course You Can Play in Florida."
Next on the list is the Watson Course. Characteristic of its designer, this course requires sound strategy from the first tee to the 18th green. If you can manage your game, chances are you'll have a memorable day on this more than memorable track.
Lastly, the Palmer Course is perhaps the most visually interesting course out of the three. Humps, bumps, swales, and hollows can be found throughout. As is characteristic of the way the King played, there are ample chances for risk and reward too. Just choose wisely.
There's a reason this fantastic property has the name Reunion. You won't just feel welcomed when you come here, you'll feel like part of the family.
There's a lot of golf to be found in Naples, but the Ritz-Carlton sits at the top of the list.
With no less than 450 fully appointed guest rooms, there's plenty of luxurious space for everyone in your party at this property. Among them are 35 suites and 70 club-level rooms that look right out on the Gulf of Mexico.
When it comes to a variety of exquisite cuisine, you won't be disappointed. If Mediterranean fare is at the top of the list, be sure to check out Gumbo Limbo.
For daily, fresh-caught seafood, there's no topping the Grill.
And for those in search of hearty Italian favourites, the Terrace offers up a meal you won't forget.
For those wanting to recharge and relax, you've come to the right place at the Ritz-Carlton Spa. Amenities include steam rooms, saunas, and even an outdoor mineral pool.
If you want to be pampered, wellness options include facials, waxing, hair, and nail services.
While all the amenities are top-notch at the Ritz-Carlton Naples, it's Tiburon Golf Club that takes the cake.
Here you'll find 36 holes of some of the best golf Florida has to offer.  Both the Black and Golf Courses offer up wide fairways and firm, fast, expansive greens. If you're able to play 18 holes without a three-putt, you've had an exceptional round.
Five sets of tees make both courses playable for anyone too.
If you watch golf on television regularly, chances are you've seen the world's best tee it up at the Blue Monster at Doral.
Measuring almost 7,600 yards from the back tees, this course can be a real challenge. The hardest hole on the course is without a doubt, the 18th. A narrow fairway demands a precise tee shot, but that's only the beginning. A long approach over water to a green that angles away is the second part of the equation. Make par here and you more than deserve a pat on the back.
While the Blue Monster is the flagship course, and its difficulty is fitting of its name, there are an additional three courses that are worth mentioning.
Raymond Floyd designed the Golden Palm, and it's no pushover. Having hosted PGA Tour Qualifying School, this track has plenty of teeth. But it's also more than user friendly for everyone. Out of all the holes, the 18th is the most memorable. This par four's approach plays to an island green. Get home in regulation, and you can breathe a sigh of relief.
Considered one of the more playable tracks on property is the Red Tiger Course. But it's quality shouldn't be underestimated. Water comes into play on some 14 holes, and it also played host to the Office Depot Championship on the LPGA Tour.
Lastly, the Silver Fox Course was designed by U.S. Open winner, Jerry Pate. It's a classic Florida design with narrow fairways, and holes of different lengths that make you use every club in your bag.
Rounding out the golf experience at Doral is the Jim McLean Golf School. Jim has worked with countless tour players and Major Championship winners, so you know you'll be receiving the best instruction if you really want to take your game to the next level.
But it's not just golf at Doral. The rooms have everything you need to feel comfortable. You can even upgrade to one of 48 Spa Suites that include jacuzzies and wet bars.
When it comes to the spa, you can select from any one of over 100 different health and beauty treatments.
And while you're busy, the kids are sure to love all the activities provided by Camp Doral.
Between golf, luxury accommodations, and activities for the whole family, you'll wish you had more time to spend at Trump National Golf Resort.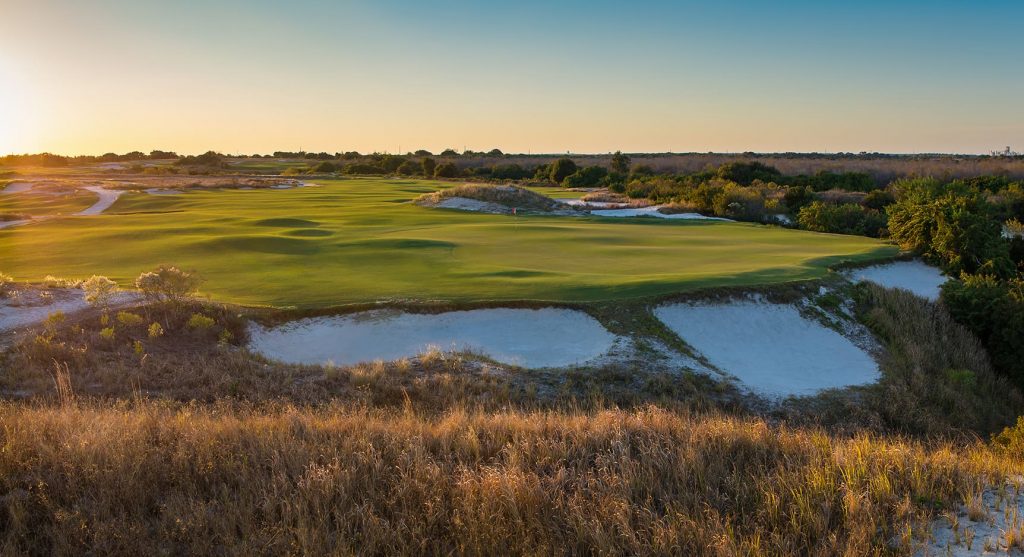 If there's a new resort golfers are raving about in Florida, it's Streamsong.  Spread out across more than 16,000 acres of native grasslands and sand dunes, this property boasts three courses that were each designed by world-class architects.
The Blue Course is the work of Tom Doak and surely will not disappoint. Unlike a lot of courses in Florida that are flat and offer little variety, continual contours and frequent elevation changes keep you on your toes.
The Red Course was designed by the dynamic team of Bill Coore and Ben Crenshaw. This layout blends seamlessly with the land and takes advantage of the natural contours to ensure a memorable experience from the first tee to the 18th green.
Gil Hanse was the mastermind behind the Black Course at Streamsong. Named "Best New Course of the Year" in 2018 by Golf Digest, this par 73 is one of the more memorable rounds of golf to be found anywhere in the state.  Big, bold features demand both sound strategy and creativity.
When it comes to accommodations, "modern luxury" is the phrase guests use to describe the 228 rooms and suites at Streamsong. No detail is overlooked and your stay is sure to be one of deluxe comfort.
And you'd best bring your appetite too. There's no shortage of places to eat at Streamsong. It doesn't matter if you're looking for a steak fit for a king, or something light to tie you over.
For those in your group that don't want to play golf every day, there are plenty of other outdoor activities. They included guided bass fishing, archery, sporting clays, and a spa you'll surely want to visit too.
If you're looking for a Florida destination that truly has something for everyone, there's no going wrong with Streamsong Resort.
Final Thoughts
While the West Coast of the U.S. has a wide array of world-class golf courses, they're spread out all out over the place. That's why Florida is such a great choice if you're looking for golf that doesn't involve a lot of travel once you get there.
If planning a golf trip to Florida sounds like something you'd like to do, be sure to get in touch with one of the staff at Golf Travel Lux. They're more than happy to handle all the planning for you at a price you can afford.